The advertisement showed the daughter preparing a drawing to give her mother for her birthday.
A caring bank teller sees the drawing and surprised the family with a birthday cake.
Why did OCBC do it? Because their tagline is "It's our pleasure to serve you!"
Is such service for a real? A blogger found that in real life, you don't get your cake at OCBC on your birthday.
Kitchen Tigress wrote, "After an eternity, the bank teller lady who went off to consult her supervisor emerged from the internal bowels of the bank.
"'We don't have any cake . . . . It's just an advertisement . . . .' 'If you don't give customers birthday cakes, why do you advertise that you do?' She went back to her supervisor.
"Tick, tock, tick, tock . . . . After another eternity, she came back, this time with a bright yellow shopping bag. Would I like the shopping bag instead? 'That's not a cake,' I said. NO CAKE! NO CANDLE! NO GOOD! She disappeared behind the door again."
Kudos to the ad man who made this ad so real.
Do we expect ads to reflect real life? For the OCBC ad, the expectation was there.
The manager at the branch made a big PR mistake by saying "It's just an advertisement".
For if the birthday cake only exist in ad land, the tagline "It's our pleasure to serve you!" is a fantasy.
This also highlights that every customer has a potential to be a content creator. As this means that your front line staff have to be trained to know how to handle such requests politely. How much would a small cake anyway.
So the customer was a blogger and blogged about it, if the corporate team at OCBC is reading the post, how should they respond to it?
The first thing they shouldn't do is to blame the blogger for making the unusual request.
The next thing they should do is to wish the blogger a belated birthday and share with the blogger that her request was unique.
Next, share with the blogger that the bank manager should have responded quickly to request as it would have been that it was OCBC's pleasure to have served her.
Maybe this will open up a new customer service for OCBC and offer a cake to every customer who asked for it or make that effort to surprise their customers on their birthday.
That would be a great follow-up to the advertisement and it would generate positive word of mouth.
What's the cost of a cake compared to positive branding to the bank?
As of writing this post, bit.ly show that there were 50 re-tweets of the link, 76 shared on Facebook, 63 "like" the post, and 67 comments made on the post.
A total of 378 clicks to the post, 219 from Singapore, 77 from others and 49 from the US. The rest made one or two clicks from other part of the world.
The blogger did get her cake though.
So you do get a birthday cake at OCBC on your birthday but the taste bittersweet.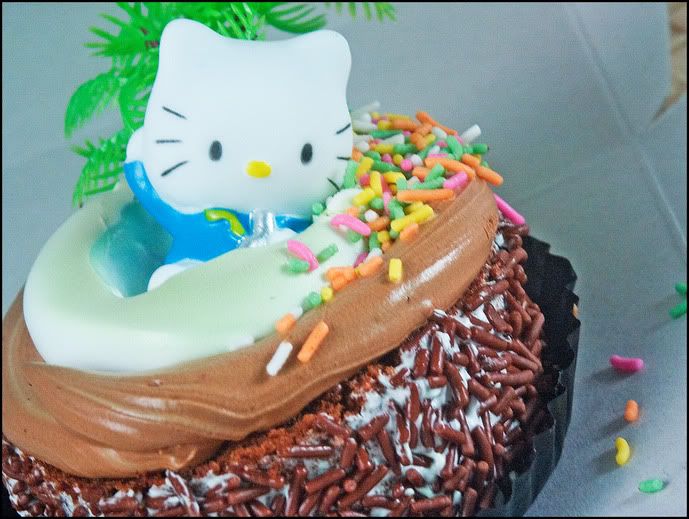 Image from http://kitchentigress.blogspot.com/